Photography As ART – STREAKER & BODY PARTS – Scene 12
Image 76 shows the streaked color backside of new Muse, Karen. Image 77 shows her in B/W streaked by light while elongated on the floor.
NARRATOR:
Nearly a decade passed before James could advance his creative photographic art. During this time he had moved to Florida. It took some time to get his life back to normal, and with the help of his sister and brother-in-law, Yvonne and Ken Hannan, he was able to open a studio-gallery in 2007.
A studio is a great asset to a photographer by providing a place where all aspects of taking a photograph can be fully controlled. It is especially vital to the total manipulation of light.
At the end of 2008 and into early 2009 he used the studio to complete the Aurora w/Eos series discussed at the opening of this review of PHOTOGRAPHY AS ART. Earlier experimentation in 2008, leading up to the making the Aurora series, included the STREAKER photographs, of which two of his favorites we have been viewing.
Image 78 shows the set under constructions. Image 79 shows the Muse, Karen, under a single cut out shell.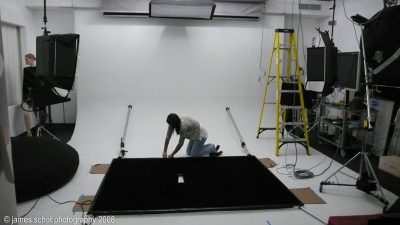 NARRATOR:
This was followed by BODY PARTS photographs, which could be compared to that popular magician's act of sawing the body in half and an honestly played shell game, where the disassembled body parts have been shuffled out of order. In the studio a set was constructed out of a large thick piece of industrial Styrofoam.
Image 80 shows the set with Styrofoam having six shells cut out.
NARRATOR:
As with all his photographic art, this magic act for the illusion is entirely performed on one canvas, which in the digital era means on one in-camera photo file. To enable this magic feat meant cutting six shells out of the Styrofoam, which could be removed and replace individually, as the Muse move underneath to a different opened shell.
Image 81 shows BODY PARTS A-12, followed by Image 82 showing BODY PARTS 3-C, in segments, pans, tilts, zooms, and in full.
NARRATOR:
When the canvas was film, photography always had a magical aura. The certainty of the outcome was never absolute until you had your processed film in hand. These BODY PARTS photographs on a single digital file retain that same aura, because the results shown on the LCD cannot be confirmed until the photographic shell game has ended and the shutter is closed.
James believes that to give the perception of magic, allowing the photographer to be an illusionist is something not accessible to the computer artist.
"The aim of the computer's output presented as illusion or otherwise, is always creating a virtual reality. Its art production is a perfect creative collaboration between artist and scientist, and any magic has to be credited to the latter. A traditional photographic creative approach allowed for genuine organic imperfections."
Image 83 shows ONE SHIPMENT OF BODY PARTS 1685 in pans, tilts, zooms, and in full.
NARRATOR:
ONE SHIPMENT OF BODY PARTS has the Muse appearing like a mannequin, arriving in two sections in two large boxes. He found this a fun shoot to do, but Karen is unlikely to agree. For her it may have seemed like more abuse of the Muse. In making this scene, she had to balance herself upside down for a long minute or two, using a blackened (unseen) monopole for balance. Nevertheless, it was these photographic experiments that lead to the Aurora "painting with light" series shown at the start of this presentation.
THE END of Scene Twelve