Rolling Stones Historic Concert in CUBA
I just returned from Cuba. While there I joined in to see the historic Rolling Stones concert …. A happening March 25, 2016.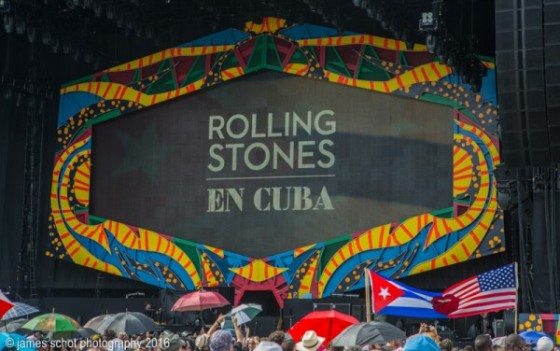 Fidel Castro's socialist government (that's what they call it, essentially it comes down that a few people own everything and tell everyone else how to live on small hand-outs) had "rock and roll" and a long list of things they suppressed from the people for decades, as it was the music of the devil and their enemies.
Mick, Keith, Charlie, Ronnie and the band put on a hell of a show playing a part in making history that will open up Cuba to the world (and help the millions of poor people there… if a Democratic government replaces the current one).
Staged larger than life….. Below Keith is being introduced.
It was a blast for the hundreds of thousands who attended. Most weren't familiar with any of their songs. It was a great treat for me! People laughed when I told them the last concert I saw by the Stones was 1965/66 at Forest Lawn, Queens New York (home of the U.S Open Tennis Tournament).
More concert photos will be posted on www.jamesschotgallerystudio.com/stock-art/ under Cuba and I've got a lot more great Cuba photo scenes to share from Havana and the countryside….coming soon!